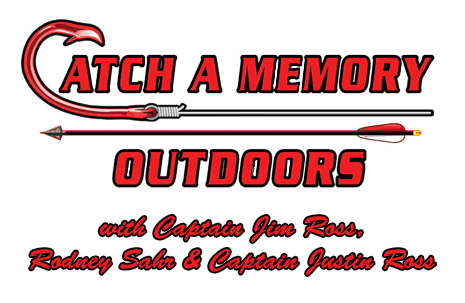 Join radio show hosts Captain Jim Ross, Captain Justin Ross, and Rodney Sahr, each Saturday morning as they broadcast live from 7:00 A.M. - 9:00 A.M. Their Catch a Memory Outdoors radio show is transmitted on WWBC 1510 AM throughout east central Florida. Brevard county anglers and hunters can also hear the radio show on 94.7, 99.9 or 100.7 FM depending on their location. By downloading the WWBC app on your mobile device, you can take the live radio show with you on the water, or in the woods each week.
Your hosts are often joined by some of the areas best local fishing and hunting guides. Together they bring our listeners up to the minute live reports on the fishing and hunting action in this portion of the state. If you happen to miss one of our live radio shows, you can still listen to whats happening each week by clicking on our "archive" tab to listen to our podcast version of the shows.
Captain Jim and his son Captain Justin are professional saltwater fishing guides based out of Rockledge Florida. Rodney Sahr is an avid offshore tournament angler based out of Orlando. These guys love the outdoors and can be found fishing or hunting throughout the year. Their Catch a Memory Outdoors radio show has been serving the communities of central Florida for almost a decade. Captain Jim has been doing live fishing and hunting radio shows for the past 18 years, and has been guiding in central Florida for over 20 years. He is considered an authority on the fishing in this portion of the state and along with Justin, Rodney, and various guest captains, they bring a vast amount of knowledge to the radio airwaves each week. If you're looking for guide and tournament proven tips and techniques, humor, stories, conservation efforts, and other outdoor happenings, then this show is for you. You're welcomed to call in and join the conversation, or just sit back and enjoy show.